Parish Spotlight
Sunday Masses Schedule

Sunday: 06:00am, 08:00am, 10:00am & 06:00pm
Know Your Faith/Catholic Doctrine

Sunday: 5.00pm
Weekday Masses Schedule

Monday - Friday: 6:00am & 06:00pm
Saturday: 06:00am
Baptism

1st and 3rd Monday: 04:30pm
Sacrament of Reconciliation

After Morning Masses: Saturday
Parish Office Hours

Monday - Friday: 07:30am - 05:00pm
Father's Office Hours

Every Wednesday
Time: 07:30am - 11:30am
Chapel of Perpetual Adoration

Everyday: 07:00am - 07:30pm
Catechism Classes (RCIA)

Sunday: 04:00pm
Visitation of the Sick (Sick Call)

Every Tuesday
PRAYER FOR THE SUCCESS OF THE RECONSTRUCTION OF HOLY GHOST CATHEDRAL ARENA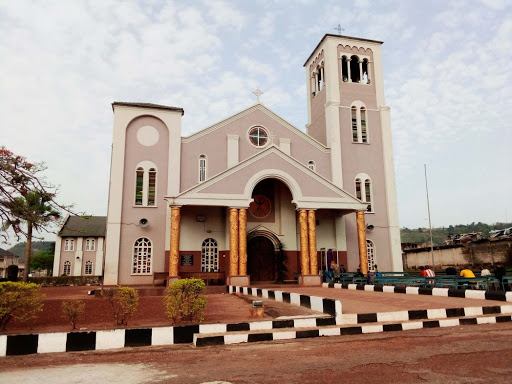 Holyghost cathedral arena reconstruction
---
PRAYER FOR THE SUCCESS OF THE RECONSTRUCTION OF HOLY GHOST CATHEDRAL ARENA
O God, our Father, we thank you for your love and mercy which never cease. We come to you with joy and praise, since by your grace and providence; the Church in Enugu Diocese has made tremendous progress in evangelization, human and infrastructural developments. As we joyfully count our blessings for the accomplishments so far, we turn to you, heavenly Father, asking your special assistance as we set out to build a new befitting Cathedral Arena.
Ever living God, we humbly beseech you to provide us with spiritual and material resources needed for the building of a suitable edifice of worship in the promotion of the mission of the Church in our diocese and beyond. Stir up faith in us to give generously for the project, and grant to all who will contribute to it abundant blessings send your angels to guide and protect all those who will be engaged in the execution of this project.
O Holy Spirit, to whom our Diocese is dedicated, endow us with your seven-fold gift to inspire us to build a true place of worship where the People of God young and old, are to be nourished with the Word of God and the Sacraments, and be joyously assured of eternal redemption.
O Mary, our Mother, intercede for us with your Son to "give success to the work of our hands".
We make our prayers through our Lord Jesus Christ your Son, who lives and reigns with you, in the unity of the Holy Spirit, one God, forever and ever. Amen.
---